Not Just a Job: Career Planning for Women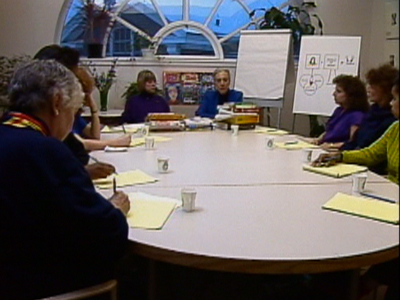 "Not Just A Job," a 35-minute documentary video, introduces new ways for women to think about and plan careers. Produced in association with Radcliffe Career Services, "Not Just a Job" shows a diverse group of eight women as they explore their individual values, interests and skills in a career-development workshop. This program is an introduction to a process that, taken step by step, helps each woman arrive at the best career possibilities for her.
"Not Just a Job" is designed as an overview to the career-planning process, to introduce new ideas and avenues to pursue. The program is a condensation of a nine-week course that has helped thousands of women, with differing levels of education and experience, find meaningful work. Rather than trying to fit oneself into the requirements of an employment ad or attempting to fulfill the expectation of others, this video stresses the importance of self-assessment and finding work that fits one's needs and desires.
"Not Just a Job" is accompanied by the written materials and exercises that are used in the video, enabling viewers to participate in the process.
What they say about "Not Just a Job"
"Not Just a Job should be in every public library and certainly in every college placement office. Instead of being paralyzed by the career planning process, the viewer is helped to begin career exploration."
Robert Jay Jr., career counselor, Vocations Inc.
"It was fantastic! I was scared about planning my work life, but the video made me realize that I had so many more possibilities than I thought I did."
Joanne Lehan, student at University of MA
Awards and Screenings
Blue Ribbon Winner, American Film & Video Festival
Silver Apple, National Educational Film & Video Festival
Ordering Information
DVD price: $210
The price includes public performance rights ( you can show it to a class or at a public event.)
Go to the order page.